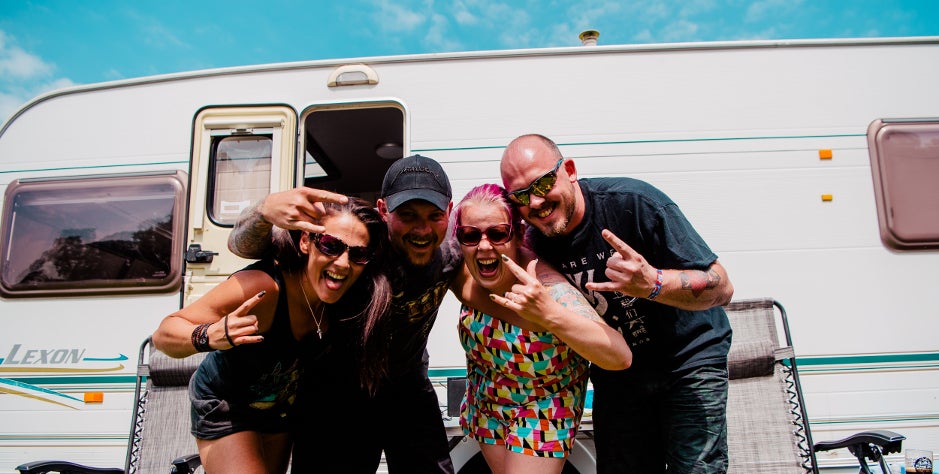 Name: Campervan Plus Pitch Upgrade
Price per pitch: £455 (plus delivery & booking fees)
This Upgrade does not include a festival ticket.
For Download 2019, the Campervan Plus area is located alongside the standard Download Campervan area. Each Campervan Plus Pitch gives you access to one pitch measuring 9m by 7m within the Campervan Plus campsite. Every occupant staying on the pitch must also be in possession of a valid 3 or 5-day weekend camping ticket, which are not included in your pitch purchase.
You will be allocated a pitch and your camping vehicle must fit within this space. Only one vehicle is permitted per Campervan Plus pitch. The electrical hook up point will be up to a max of 20m from your pitch please ensure you bring along your own cable.
Only these types of vehicle will be admitted:
Campervan
Motor home
Caravan
Trailer tent
Purpose built vehicle with camping facilities inside
Campervan Plus Pitch Upgrade Includes:
Campervan Plus Pitch measuring 9m by 7m for your vehicle
Electrical hook up per pitch (1 x 16 amp connection)
Campervan Plus campsite with: 24h reception, proper toilets & warm showers
Fresh water and waste disposal
Please Note:
Campervan Plus is open from 12.00 Noon on Wed 12 June until 11am Mon 17 June.
Access to the Campervan Plus area will close from 9pm to 9am - access in or out will not be possible outside those hours.
If you only book a 3-day camping ticket, you can only use your pitch for those days.
Under 16s must be accompanied by an adult 18+, No under 5s.
Vans with mattresses or bunk bed facility not permitted.
Water hook-up not provided.
No tents or gazebos can be pitched on your pitch.
Gas cylinders will be permitted, providing they are professionally installed and certificated in a caravan/campervan.
Cars, people carriers and vans ARE NOT PERMITTED to be slept in. If you do not know whether your vehicle is suitable, purchase a Package and send a picture of the vehicle to vipnation@livenation.co.uk. If it is not suitable, your ticket can be refunded or be used with an appropriate vehicle. VIP Nation's decision as to the suitability of your vehicle is final. It is the customer's responsibility to ensure their vehicle is suitable - no refunds will be issued for this reason after 2nd May 2019.
If you have accessibility requirements please call us on 0207 009 3484 before booking.
Live Nation reserves the right to eject those disturbing the peace without readmission or refund.
Delivery Information
All prices exclude a per transaction delivery fee which will be added to the total amount due.
Delivery fees vary based on your billing address. Please see the options for your country below:
United Kingdom
Standard Post - £3.45
Northern Ireland
Standard Post - £3.45
Other Countries
Standard Post Overseas - £4.95